Meaningful HeyTaco reward ideas that your team will love
A collection of HeyTaco customer reward ideas.
---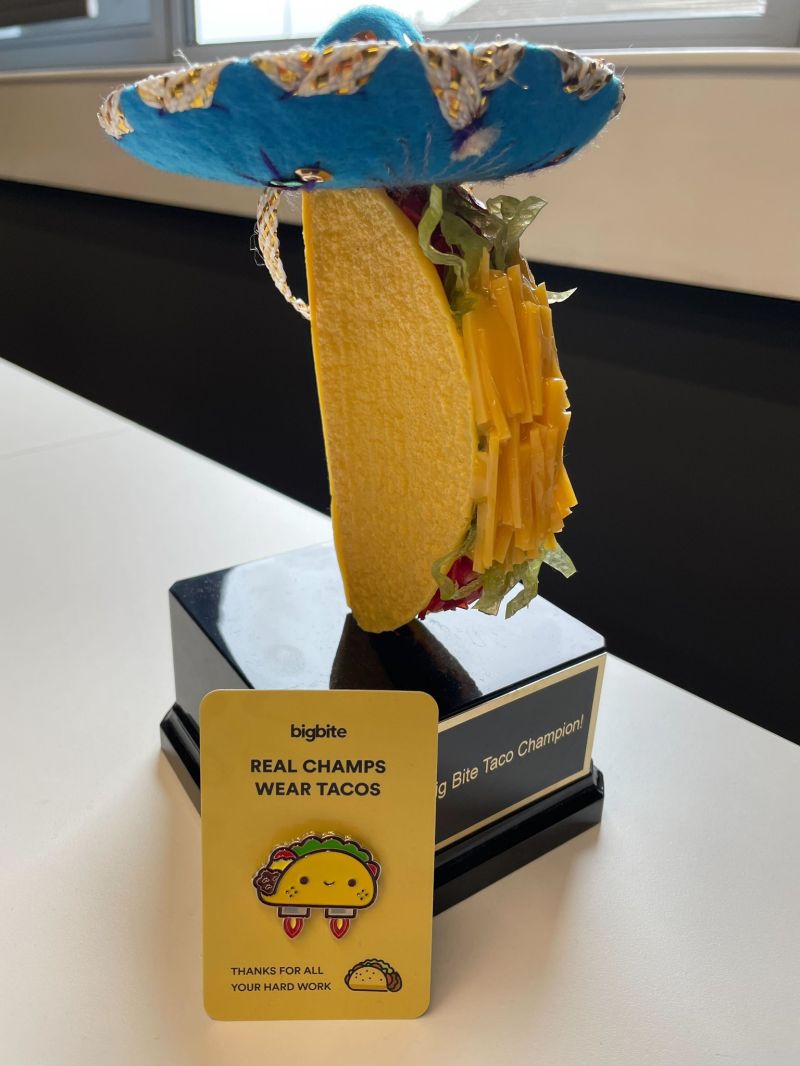 The best taco rewards are the ones that fit your team and your company culture. Of course, you can always ask your team for reward ideas. We think you'll be surprised by their additions. Often, the most loved taco redemption ideas require no money to be valuable.
When it comes to taco rewards, the possibilities are endless! With wild team reward ideas, like a traveling taco trophy, you can personalize your taco economy to fit your team. Thanks for being a part of the most enjoyable employee recognition tool available.
Many customers use their leaderboards to recognize top givers and receivers. However, suppose you have a fully remote team, and you're looking for ideas especially suited to reward your widespread team. In that case, these remote-friendly reward ideas might be the inspiration you're looking for.
Here's our best list of crowd-sourced ideas HeyTaco users have offered their teams for taco redemptions.
Team Reward Ideas
| Reward Title | Description | Estimated Cost |
| --- | --- | --- |
| Fun day | Take a day off to have some fun and recharge. | $0 |
| Taco Trophy | The winner gets a taco trophy, hat, pin for the month. | $0 |
| Your Conference Room | Name a conference room after someone. | $0 |
| Highfive | Get a highfive from the CEO. | $0 |
| 1:1 with CEO/Leadership | Get 30 minutes with anyone on the leadership team to talk about anything you like, want to learn more about, or share your thoughts. | $0 |
| Emcee an all hands meeting | Lead, get everyone excited, and emcee an all-hands meeting. | $0 |
| Engineering 1-1 class | Get a class on how things work from the head of engineering or learn a specific tool of your choice with the help. | $0 |
| Color of the day | You get to pick your favorite color for everyone on the team to wear on Friday. | $0 |
| Pet of the week | Your pet becomes the "pet of the week" across the company's internal pages. | $0 |
| Front row parking spot | No more struggling to get a good spot, redeem your tacos for a whole month of front row parking. | $0 |
| Coffee | Expense a meetup over beverages of your choice. Bonus points if it's with someone new. | $5-$10 |
| Company swag | Get stickers, socks, bag, shirt, hat, and mug shipped to you. | $50 |
| Mystery box | Redeem your tacos for a surprise box. Each box is tailored to the specific person redeeming the reward. | $25-$100 |
| Raffle Entry for a reward | Each taco gets you 1 entry into the raffle to win a reward (like a PS5, surf lesson, etc.). | $100-$300 |
| Learn something new (Airbnb Experiences) | It's your chance to learn something new. Redeem your tacos, and feel free to pick from Airbnb experiences such as learning how to paint, surf, cook, anything! | $50-$150 |
| Spa treatment/day | Good for expensing an hour of massage in your local area. | $50-$150 |
| House cleaning | Expense up to $150 towards house cleaning from a provider in your local area. | $150 |
| Movie or music subscription for a year | Get one of the movie subscriptions (Netflix, Hulu, Apple TV, etc.) or a music subscription (Spotify, Apple Music, etc.). | $100-$150 |
| Fitness/gym subscription for 6 months | Get 6 months on us for a fitness/gym subscription of your choice. | $100-$500 |
| Meal subscription | Get a free month of meals from HelloFresh or Freshly. | $150-$300 |
| Tacos for dinner | Get a taco dinner for you +1 from a place of your choice. | $20-$30 |
| Daycare/pet stipend | Get a taco dinner for you +1 from a place of your choice. | $20-$30 |
| Adventure time—oh boy | Good for expensing a new adventure, just make sure you come back nice and safe :). | $10-$20 |
| 2 Movie tickets | Go to a flick with whoever you'd like and then share your review with the team. No SPOILERS! | $10-$20 |
| 2 Courtside tickets | Redeem your tacos to get up close and personal at an event of your choosing like a concert, sports game, etc.. | $50-$150 |
| Rally for a cause | Rally for a cause - Once we get enough tacos we'll take the day or half the day off to volunteer together. | $0 |
| Game night | Get the team together for a live or virtual game night. | $0 |
| Tacos for pizza | Redeem your tacos to get pizza for the entire office. Maybe we'll be able to order a taco pizza! | $50-$250 |
| Taco Tuesday | Redeem your tacos for some tasty lunch tacos for the office. | $50-$250 |
| Small group lunch | Expense up to $100 for a group lunch. We'll pick a contributor to give the lunch $$$'s to and organize your outing. | $100 |
| Mystery room | Do a live or a virtual mystery room with a group. | $100-$250 |
| Sponsor your meetup | For those who like to meet up at the office for knitting, board games, wine clubs, or anything really. Once you redeem this reward, we'll give $150 to a contributor to organize and have an amazing meetup. | $150 |
| Tacos for charity | Once we get enough tacos, we'll donate to our favorite charities. | $100-$500 |
Have more questions about how to add a taco redemption to your taco economy? You can reach us here–we love to chat!
If you prefer to do it yourself, this 2 minute step-by-step video will walk you through adding rewards to your taco economy. No chatting with support is required.