Uncover a workplace of kindness, gratitude, and connection
Learn why HeyTaco is a cost-efficient way to improve your team.
---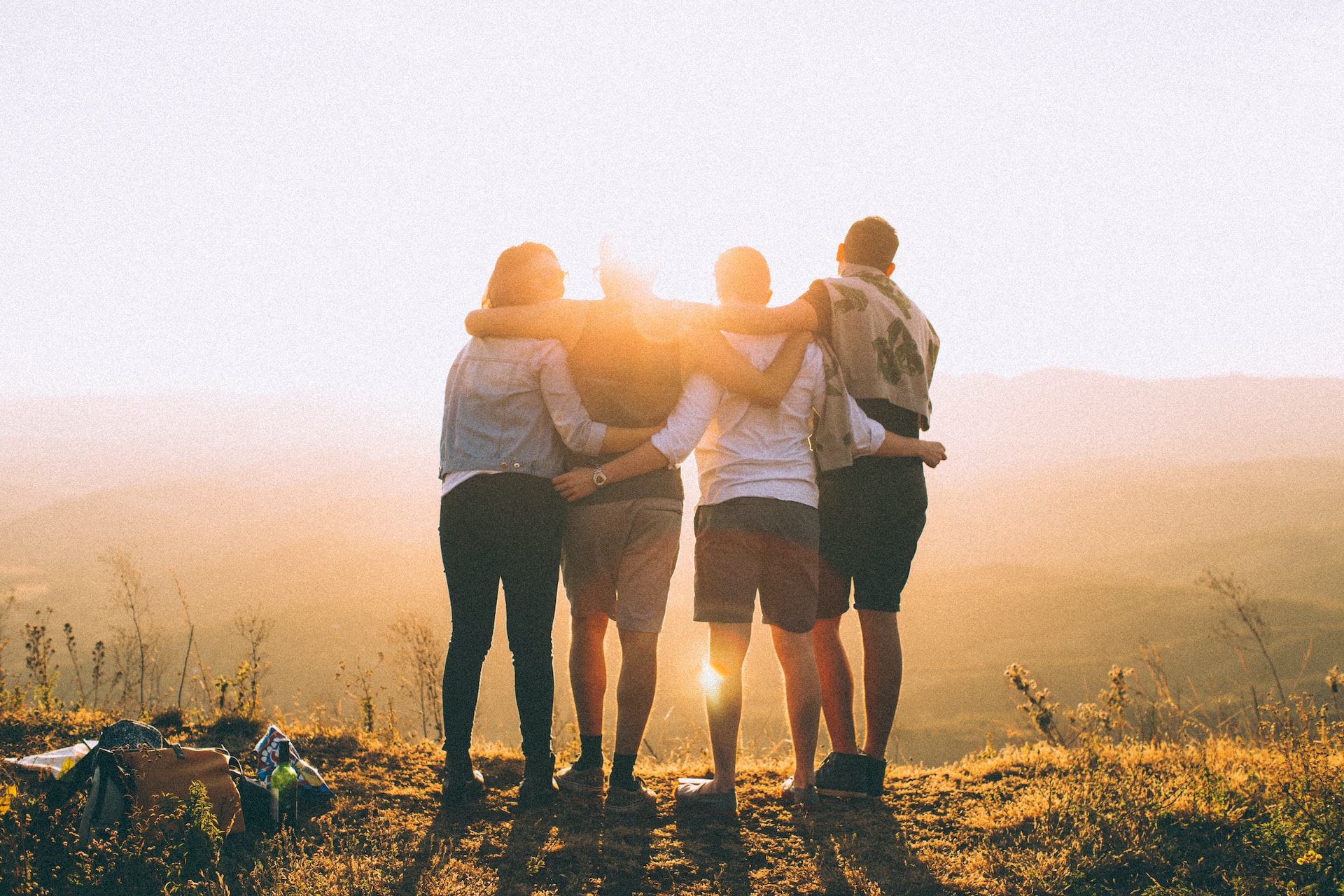 Photo by Helena Lopes
You want your team to feel appreciated and be recognized for their hard work. Recognizing employees in your daily work is important to how you want to operate. It's possible to encourage kindness without requiring it to be done. There's no room left for the top-down programs of HR or the annual review compliments. You know it can be done differently and want to do it better.
The amount of time a single employee spends building your business can be rewarded in a genuine and authentically thankful way. Employees will spend 33% of their lives working to grow a business–over 90,000 hours in a lifetime. You already know people are motivated by much more than the dangling carrot of an annual bonus. Humans are motivated by kindness, giving, and celebrations. Not just money.
At first glance, HeyTaco purposely feels like a game. You can give tacos for little things like a birthday. Or big things like winning a million-dollar contract. There's talk about who's at the top of the 🌮 leaderboard or how someone leveled up to Taco Magistrate. Maybe there's even a rogue teammate who has plotted to seize all the tacos 🌮🌮🥷🌮🌮 in your taco economy.
But when you look deeper, beyond the fun, you'll discover the greater purpose of daily peer recognition and why HeyTaco works for companies worldwide. There's loads of scientific research to support the importance of employee recognition, plus our findings from 7+ years of running HeyTaco.
Research-based reasons for kindness in the workplace
Words of recognition and appreciation will change your team's entire disposition. Those words improve your team's physical, mental, and social well-being through gratitude, kindness, and genuine connection. A daily practice of appreciation benefits both the giver and the receiver, so everyone wins.
Here are the top four research-based reasons to pursue kindness and gratitude at work.
1. Happier People Pay It Forward
Acts of kindness have profound effects in the workplace. Even small acts of kindness increase satisfaction, happiness, and pro-social behaviors. This leads to more empathy, compassion, and stronger relationships. A Great Place to Work survey showed that 37% of people prefer to be personally recognized as the number one motivator to produce better work. Only 7% said a pay raise would motivate them to produce great work. For those of you who just fell asleep, 1 in every 3 people have said they would be recognized rather than receive a pay raise. That's worth paying attention to in your office. That's worth paying attention to in your office.
The best part is once people start doing nice things for others, they don't stop. Studies show kindness can be contagious. When someone receives an act of kindness, they'll pay it forward, which creates a cycle of generosity. Forbes Council Member Matthew Rolnick agrees, stating, "Personal recognition helps employees feel more valued, motivated, and productive. To be successful, make sure recognition is specific, timely and aligned with company values." HeyTaco is a great way to encourage specific, timely, and company value-aligned recognition.
2. Kindness Leads to Emotional and Physical Health
According to the Random Acts of Kindness Foundation, witnessing acts of kindness produces oxytocin, which aids in lowering blood pressure and improving heart health. Kind people have 23% less cortisol (the stress hormone) and age slower than the average population. In this quick video, the Kindness Foundation also suggests that acts of kindness can increase energy levels while reducing depression, pain, and anxiety. So, integrate a way to spread kindness in your workplace.
3. Create More Connections at Work
Building connections at work is vital to job satisfaction and overall life enjoyment. Tracy Brower, a Ph.D. sociologist, writes on Forbes, "There is a serious crisis of connection today, and it's having an effect on everything from employee happiness and wellbeing to organizational attraction and retention." Working on a remote team has definite benefits, but it also requires more effort to build moments of connection between team members. It's rightly a major concern.
A study by BetterUp also details a deep crisis over the lack of connections. It can be complex and wholly detrimental to ignore the need for friends, connections with coworkers, kindness, and positive feedback in the workplace.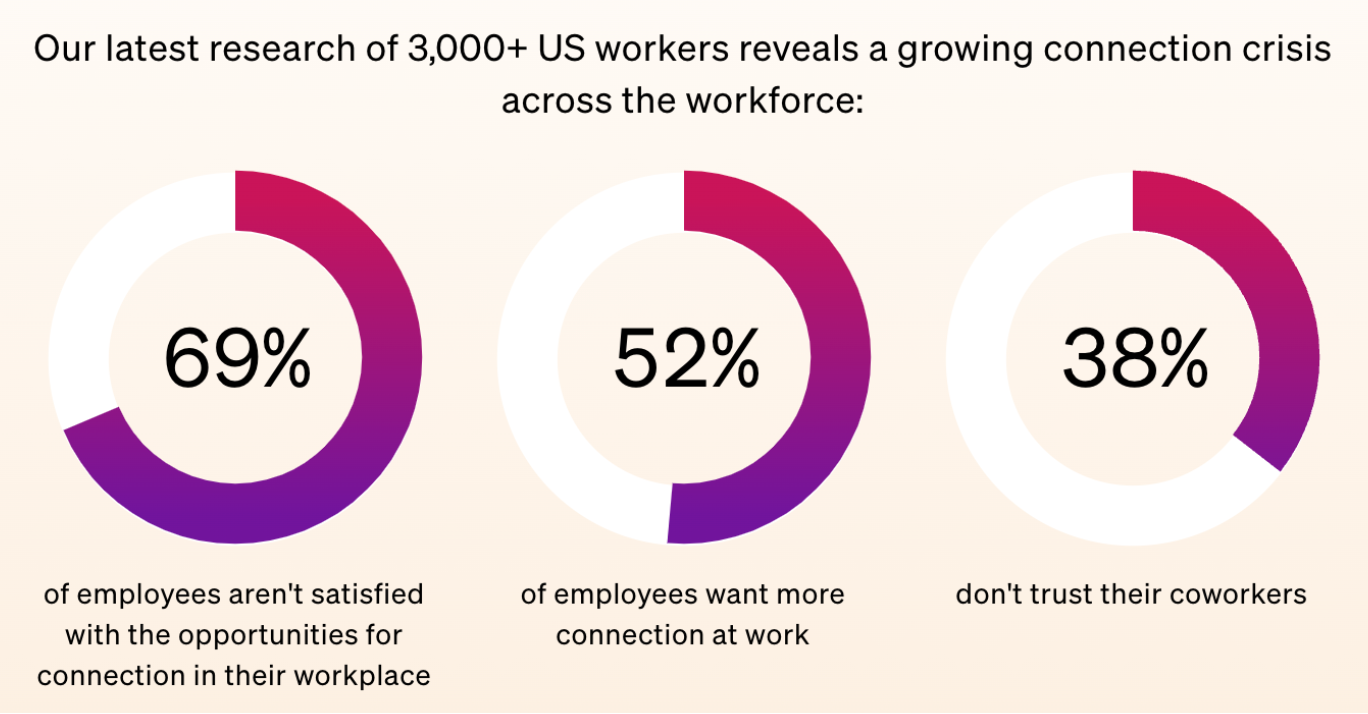 "With dispersed teams, employees feel more disconnected and siloed than before. And they're looking to their leaders for help." -BetterUp

The study notes that people with good connections at work report 91% more personal growth and 101% more professional growth. We all want to create that type of workplace environment!

And leadership is often tasked with creating opportunities for these connections to happen. But it can be challenging without being *eyeroll* cheesy and awkward. HeyTaco can be a simple place to start.
4. Invest in Your People
Deloitte found high employee recognition companies had 31% less turnover compared to low recognition companies. This can equal huge cost savings for your business.
Involuntary turnover is a business killer in more ways than money. The last reason you want someone to leave your company is from feeling under-appreciated. That's a surefire way to hurt a valued employee and your brand.
When you foster a culture of 🌮 kindness, you greatly decrease the chances you lose people or cause them to feel under-appreciated. The HeyTaco tool can help you solve this age-old turnover problem in an easy and fun way.
And if you haven't calculated your cost of turnover, now is the time to start. It can change your perspective in a big way. You'll be motivated to find ways to decrease your employee turnover this year.
When you weigh the benefits against the cost, you can see why HeyTaco is a simple investment in the day-to-day health of your team. We work with you to ensure you maximize your investment and provide helpful tips and analysis for your taco 🌮 economy. You can contact us on our support page if you have questions or comments. Yes, we will get back to you quickly.
What are you waiting for? There's no line for tacos.
The level of engagement in HeyTaco is what people in leadership dream of. It's designed to be used organically and spread through natural use—people don't feel told to use HeyTaco as a program. They love to use HeyTaco, beginning with the organic introduction, nobody is forced to give tacos. Instead, people give because they want to—it feels good. And it's fun! This makes giving tacos authentic and leads to continued usage weeks, months, and even years after people give their first taco.
If all this talk about purpose, giving, and employee recognition has motivated you to become a part of the taco universe, welcome. We're glad you're here. You can start your free 30-day trial today. And start giving valuable tacos to your own team. HeyTaco creates healthier teams by inspiring acts of kindness, and we want you to join us.
PS—tell us how many taco emojis you saw on this page, and we'll send you a special HeyTaco 🌮 sticker!