🎁 Custom Rewards
Custom-tailored rewards your team will love
With HeyTaco, you can easily create meaningful rewards that are custom-built and unique for your company that are redeemable for tacos.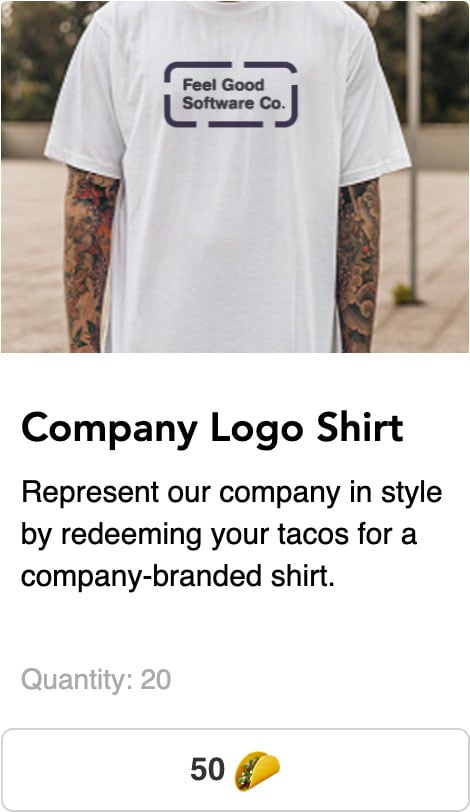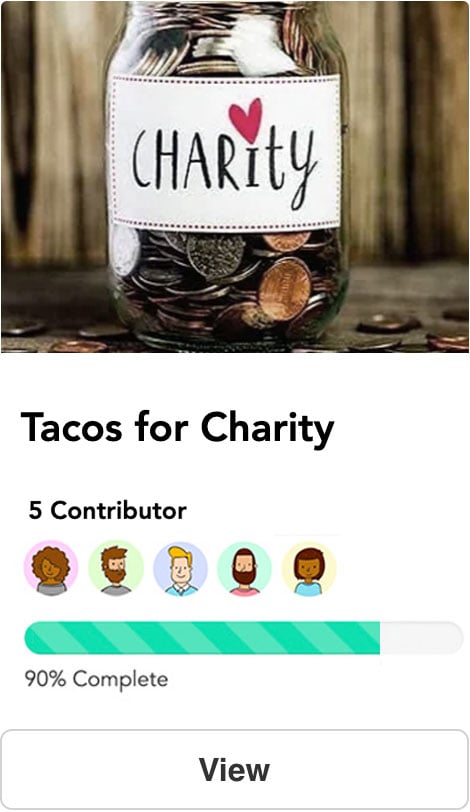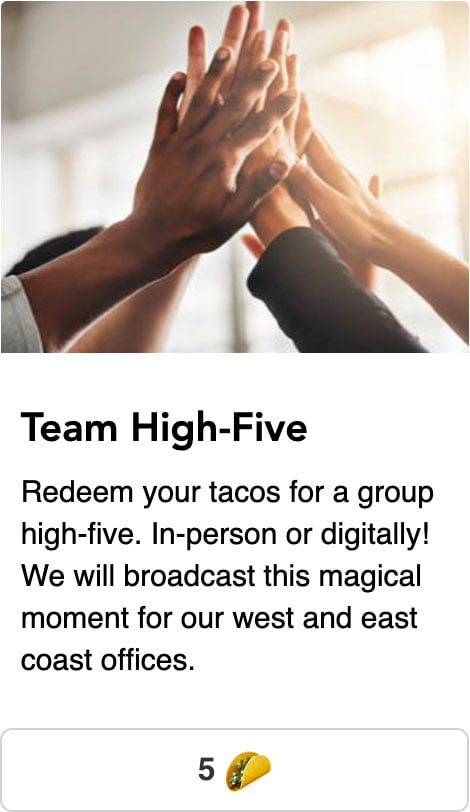 69% of teams celebrate less than three times per quarter
Remembering to take time to celebrate is challenging, especially doing it in a memorable way. Rewards are a great way to add some extra excitement to your taco economy. You can create custom-tailored rewards that your team can redeem with tacos they've received.
Reward ideas that your team will love
Taco Trophy

The winner gets a taco trophy, hat, or a pin for the month.

Your Conference Room

Name a conference room after someone.

High-five

Get a high-five from the CEO.

1:1 with CEO/Leadership

Get 30 minutes with anyone on the leadership team to discuss anything you like, want to learn more about, or share your thoughts.

Emcee an all-hands meeting

Lead, get everyone excited, and emcee an all-hands meeting.

Engineering 1-1 class

Get a class on how things work from the head of engineering.

Color of the day

Pick your favorite color for everyone on the team to wear on Friday.

Pet of the week

Your pet becomes the "pet of the week" across the company's internal pages.

Front row parking spot

No more struggling to get a good spot. Redeem your tacos for a whole month of front-row parking.

Coffee

Expense a meetup over beverages of your choice. Bonus points if it's with someone new.

Company swag

Get stickers, socks, a shirt, a hat, or a mug shipped to you.

Mystery box

Redeem your tacos for a surprise box. Each box is tailored to the specific person redeeming the reward.

Raffle Entry for a reward

Each taco gets you one entry into the raffle to win a reward (like a PS5, surf lesson, etc.).

House cleaning

Get your house/apartment cleaned by a provider in your local area.
Learn something new (Airbnb Experiences)

It's your chance to learn something new. Redeem your tacos, and feel free to pick from Airbnb experiences such as learning how to paint, surf, cook, or anything!

Spa treatment/day

Good for expensing an hour of massage in your local area.

Movie or music subscription for a year

Get one of the movie subscriptions (Netflix, Hulu, Apple TV, etc.) or a music subscription (Spotify, Apple Music, etc.).

Fitness/gym subscription for 6 months

Get a six-month fitness/gym subscription.

Meal subscription

Get a free month of meals from HelloFresh or Freshly.

Tacos for dinner

Get a taco dinner for you +1 from a place of your choice.

Daycare/pet stipend

Receive a voucher to pamper your pet.

Adventure time

Expense an adventure. Just make sure you come back safe.

2 Movie tickets

Go to a flick with whoever you'd like, and then share your review with the team. No SPOILERS!

Rally for a cause

Rally for a cause - Once we get enough tacos, we'll take the day or half the day off to volunteer together.

Small group lunch

Expense up to $100 for a group lunch. We'll pick a contributor to give the lunch $$$'s to and organize your outing.

Game night

Get the team together for a live or virtual game night.

Tacos for charity

Once we get enough tacos, we'll donate to our favorite charities.
What customers are saying about HeyTaco